roof repairs | NEW ROOFS | re-roofs | flat roofs | leadwork & SO MUCH more!
ROOFING BIRCOTES
Your Trusted | Local | Experienced Roofing Contractors
DO YOU NEED THE BEST ROOFERS NEAR ME IN BIRCOTES, NOTTINGHAMSHIRE?
With a passion for always delivering the best roofing services, we take pride in ensuring our customers' needs are dealt with quickly and to the highest possible standard. We are here to help with all your roofing requirements and can take care of your New Roof installations, Re-Roofs, Repairs, Flat Roofs, and more.
We truly believe in providing unparalleled customer care and always ensure that every job we undertake exceeds your expectations.
Below you will see details of the services that we offer. Please don't hesitate to contact us anytime to discuss your roofing issues and arrange your FREE site survey.
ROOF REPAIRS
If you require roofing repairs, then we are here to help. We start by conducting a survey to ascertain the scope of work and what caused your roof to fail. Doing this ensures that the proposed repairs will be both suitable and that the root cause of the issue has been addressed. We will provide a detailed quotation, and if you wish to proceed, then we will schedule a date and ensure that a quality repair is carried out which will last for years to come. Here are the roofing repair services we offer in Bircotes and the surrounding areas.
Leaking Roof Repair
Roof leaks are one of the most common issues and can affect all types of roofs. In many cases, they are relatively easy to resolve.
Missing | Slipped Tiles
Roof tiles can slip or become broken due to several reasons, including poor weather, strong winds, previous poor repair, or due to the age of the roof.
Emergency Roofing Repair
Need an emergency roof repair? No problem. Possibly due to falling debris, bad weather, or your property being struck by a foreign object.
Flat Roof Repairs
A leaking or damaged flat roof can be cause for concern. We will pinpoint the issue and resolve it in no time.
Pitched | Gable Roof Repair
One of the most common roofs in the UK. If yours has started to leak, is missing a ridge or roof tile, or needs a repair, we can help.
Garage Roof Repairs
Noticed an issue with your garage roof? Taking action swiftly can minimise the repair. Whether pitched or flat, we can help.
Lead Flashing Repairs
Some signs of failing lead flashing can include leaks, staining, and missing mortar between the brickwork and lead.
Chimney Repairs
Chimney repairs can involve addressing cracks, replacing damaged leadwork, or repointing brickwork.
Commercial Roof Repair
As well as residential roofing, we also cater to commercial clients. Contact us any time to discuss your needs.
We are here to take care all of your roof repair needs
Your home's roof is a stalwart protector, shielding you and your loved ones from the elements. From rainstorms to scorching sunrays, it endures the brunt of nature's forces to provide comfort and security. Yet, as time and weather take their toll, even the most robust roofs can experience wear and tear, leading to leaks, compromised structural integrity, and decreased insulation efficiency. At KAD Roofing Bircotes, we offer proficient and reliable roof repair services that ensure your home remains a safe haven.
Roof repairs extend beyond merely fixing visible damage; they are a crucial investment in the long-term well-being of your residence. A damaged roof, even if it starts as a small leak, can result in a cascade of issues. Water infiltration can weaken your home's structural elements, causing damage to walls, ceilings, and even the foundation. Beyond the physical harm, moisture can create a breeding ground for mould and mildew, posing health risks to your family. Furthermore, compromised insulation leads to energy inefficiencies as your heating and cooling systems need help maintaining a consistent temperature.
KAD Roofing Bircotes understands a well-maintained roof's critical role in your home's health, comfort, and value. Our team of skilled professionals is dedicated to preserving the integrity of your roof through accurate assessments and effective repairs. Whether addressing a minor leak, replacing damaged shingles, or executing a comprehensive restoration, our experts possess the know-how and tools to rectify the situation efficiently.
Our repair process starts with a meticulous evaluation of your roof's condition. We don't just address the surface issues; we delve deeper to uncover underlying concerns that might escalate over time. This proactive approach saves you from costly future repairs and reinforces your confidence in the longevity of your roof's protection.
Transparency and professionalism are the pillars of KAD Roofing Bircotes. We walk alongside you throughout the repair journey, explaining each step and presenting budget-friendly solutions that align with your financial considerations. We aim to foster lasting relationships with our clients based on trust, dependability, and impeccable service.
Rather than allowing a minor problem to escalate, take the proactive step of reaching out to KAD Roofing Bircotes. Schedule a consultation today to give your roof the attention it deserves. Let us partner with you in safeguarding your abode, ensuring you and your family enjoy the safety and comfort of a well-maintained roof.
If you need the best roofing repairs near me, we will help. Feel free to reach out any time and discuss your needs 01302 490 889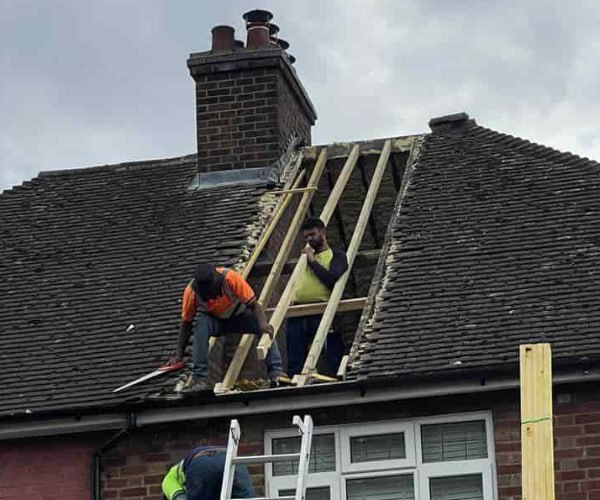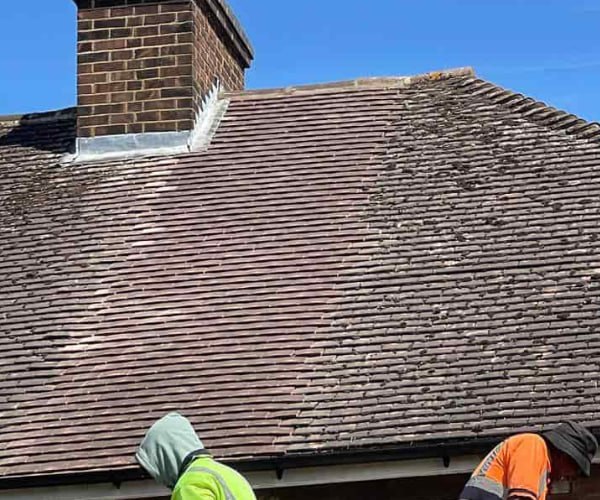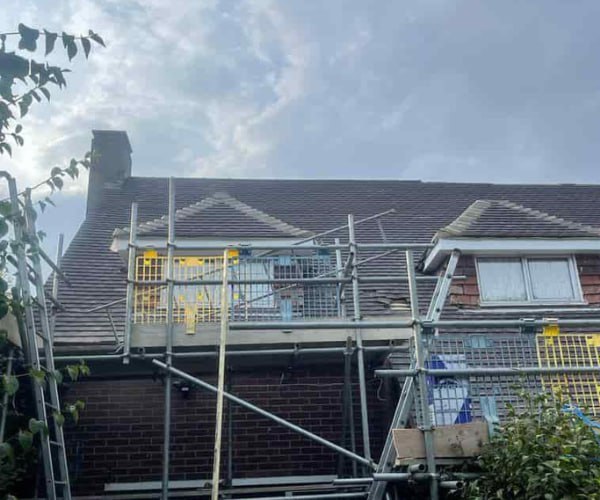 ROOF REPLACEMENTS & NEW ROOFS
Does your property need a replacement roof? If so, we can help and ensure it is installed to the highest possible standard, which will last for years to come. We are also very skilled in designing and installing new roofs, so if you are carrying out a new build or a house extension, we will ensure your new roof is designed and constructed to the highest standard.
Pitched Re-Roof
Pitched roof are long-lasting and can withstand the elements, but over time will reach a point where replacement becomes necessary. Our replacements involve a strip down back to the rafters, where we will assess the overall roof structure, then replace the felt and battens, roof and ridge tiles, and any additional items like fascias and soffits. Leaving you with a roof in perfect condition.
New Pitched Roof
We offer new pitched roof installation from start to finish and ensure it is installed to blend seamlessly with your property and meet current building regulations. We can work to your architects' drawings or offer a complete design and build service. Whether you choose roof tiles, slates, or even something different, you can be sure you will be left with a new roof you are delighted with.
Hipped Re-Roof
Re-roofing a hipped roof involves the complete strip-down back to the rafters, where we will check over the remaining structure and then install new felt, battens, roof, ridge and hip tiles. (Also known as bonnet tiles) We then complete any required leadwork, fascias, soffits, etc., ensuring you are left with a stunning roof that will last for years.
New Hipped Roof
Whether you require design and installation or us to work to your architects' drawings, we will ensure your new hipped roof is constructed accurately and complies with all current building regulations. Maybe you require roof tiles, a slate covering, or something else, the possibilities are endless, and we can help you choose what is right for you.
Flat Re-Roof
There are many different options available when selecting a new flat roof. Whether you require a simple asphalt covering or something a little more advanced like Liquid plastic, EPDM, Fibreglass (GRP), lead, or felt, then we can help. We offer all types of flat roof coverings.
New Flat Roof
Flat roofs are cost-effective and popular. Their simple design addresses many people's needs. Whether you require a new flat roof for an extension or as part of a new build construction; we will ensure we construct your new flat roof to a standard you will be delighted with.
Mansard Re-Roof
We can fully strip down your Mansard Roof and then re-construct it to 'as-new' condition. Multiple options are available, including a tile or slate finish, replacement leadwork, and guttering. We will ensure you are left with a perfect roof for your property. Contact us to schedule your free site survey.
New Mansard Roof
We have experience with the construction of new mansard roofs. They are a more complex design than a conventional pitched or hip roof, but we will ensure that your new mansard is installed to conform with all building regulations. We can work with your architects' designs or offer a complete design and build service.
Dormer Re-Roof
We can strip your dormer back and ensure its structural integrity is good, then rebuild it so it conforms to regulations. You can choose many different options, including the type of tile finish, and the covering for the top of the dormer itself.
New Dormer Roof
Whether you are considering installing a new dormer into your existing pitched roof or require a complete new roof with a dormer incorporated into it, we can help. Dormers are a perfect choice if you are carrying out a loft conversion.
Mono Pitched Re-Roof
A Mono-pitched roof replacement consists of a strip down, inspection of the structure, and then replacement of your roof covering.
New Mono Pitched Roof
For a new build project or as a renovation of an existing property, we will construct your perfect mono-pitched roof.
Commercial Re-Roof
We offer all types of commercial property roofs, ensuring they are installed to the highest possible standard to meet all your needs.
New Commercial Roof
Need a commercial roofer for your building projects? We can take care of your new commercial roof construction needs.
Our roof replacement and new roofs installation
If you're considering replacing or investing in a new roof, KAD Roofing Bircotes is here to transform your vision into reality.
Uncompromised Protection: The primary function of a roof is to shield your home from rain, wind, snow, and other environmental factors. A deteriorating roof can lead to leaks, water damage, and compromised structural integrity. Our expert team at KAD Roofing Bircotes understands the significance of a robust roofing system. With years of experience and a commitment to quality, we ensure that your new roof provides the ultimate protection, keeping your family and belongings safe and dry.
Enhanced Energy Efficiency: Modern roofing materials are designed to improve energy efficiency, helping you save on utility bills. An outdated or damaged roof can lead to heat loss during winters and heat gain during summers, driving up energy costs. KAD Roofing Bircotes offers a range of energy-efficient roofing options that help regulate indoor temperatures, reducing your reliance on heating and cooling systems.
Curb Appeal: Your home's exterior is visitors' first impression, and a new roof can significantly enhance its curb appeal. Whether you're aiming for a classic, contemporary, or rustic look, KAD Roofing Bircotes has a variety of roofing styles, colours, and materials to match your aesthetic preferences. A beautifully designed roof not only adds visual charm but also increases the market value of your property.
Long-Term Savings: While investing in a new roof might seem like a high upfront cost, it's a wise financial decision in the long run. Constant repairs on an ageing roof can accumulate expenses over time. With a new roof from KAD Roofing Bircotes, you'll benefit from reduced maintenance costs and extended durability, providing you with peace of mind for years to come.
Expertise You Can Trust: At KAD Roofing Bircotes, we take pride in our team of skilled professionals who are well-versed in the latest roofing technologies and techniques. From the initial consultation to the final installation, we work closely with you, considering your preferences and addressing your concerns at every step.
Your dream home deserves nothing less than a strong, stylish, and enduring roof. With KAD Roofing Bircotes, you're not just getting a roof replacement or installation but a commitment to excellence and customer satisfaction. Contact us today to journey towards a safer, more beautiful home.
For all of your re-roof or new roof construction needs, contact us to schedule your free site survey 01302 490 889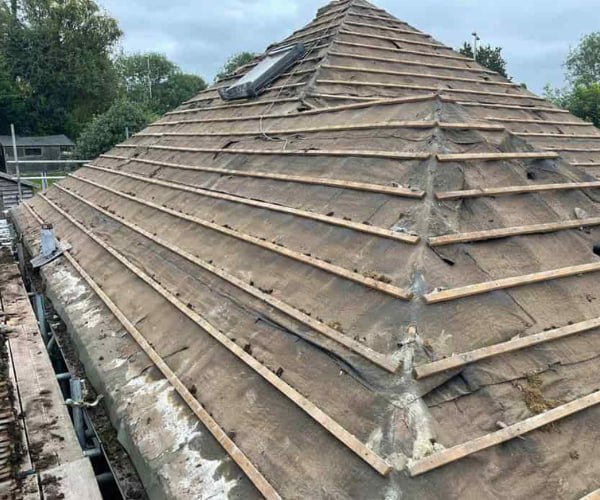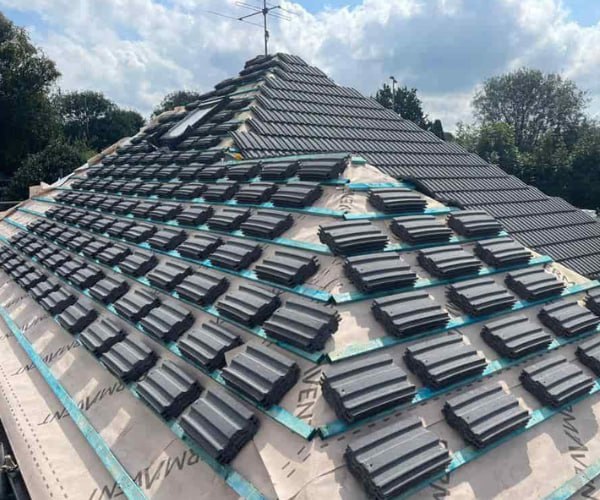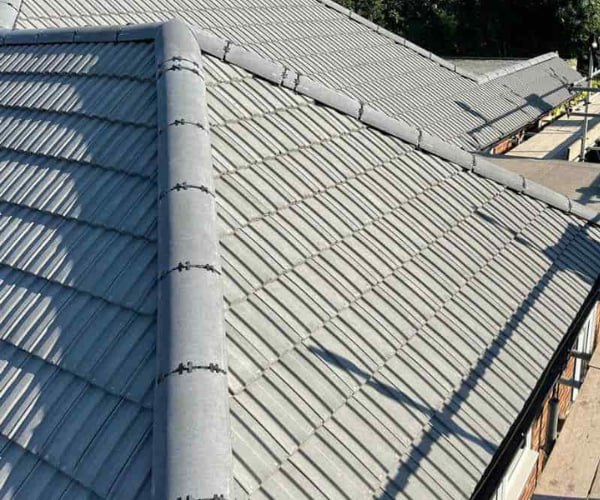 Other Roofing Services
As well as roof repairs, replacements, and new roofs, we also offer the following other roofing services. If you require something specific that is not listed, please do reach out to us, as we will certainly be able to help you.
Fascia, Soffits & Guttering
An essential components of a roof structure. They ensure your roof is watertight and channel rainwater away from your property as necessary. We can take care of all your fascia, soffit, and gutter needs, from installation as a standalone product to combined with a new roof or a repair.
Leadwork
Leadwork is an essential part of a roof structure, and ensuring it is properly installed is crucial. If you need lead flashing, then we are here to help. We undertake all types of leadwork for existing and new roofs. Our leadwork services are available for any roof type. Contact us to schedule a survey.
Repointing
We can repoint any surface, including chimneys, brickwork, ridge, and hip tiles. Over time the mortar can fail, but our repointing service will ensure your property remains water tight. Call now to discuss your repointing needs.
Velux Window Installation
If you are looking for a window to be installed in a pitched or gable roof, then a Velux window is a perfect solution. A Velux is a robust window solution with many options and is ideal for adding daylight to a roof space. Contact us to arrange a survey for a Velux window.
Dry Ridge | Dry Verge
Dry ridge and dry verges are innovative roofing systems that offer numerous advantages over traditional mortar-based methods. Dry ridge systems are used to secure and weatherproof the ridge tiles of a pitched roof. They utilise mechanical fixings and interlocking components to create a secure, maintenance-free solution that improves roof stability, ventilation, and protection against water ingress. Similarly, dry verge systems protect the roof edges where tiles meet the gable walls. They provide:
A secure and aesthetically pleasing finish.
Preventing wind uplift.
Water penetration.
The need for constant maintenance.
Both dry ridge and dry verge systems are highly durable, easy to install, and long-lasting solutions for modern roofs.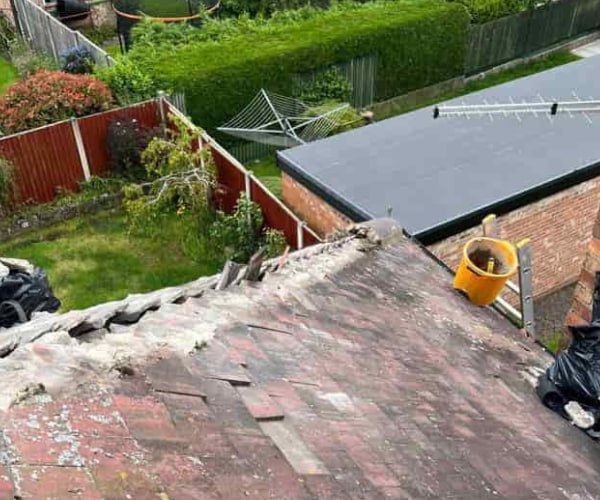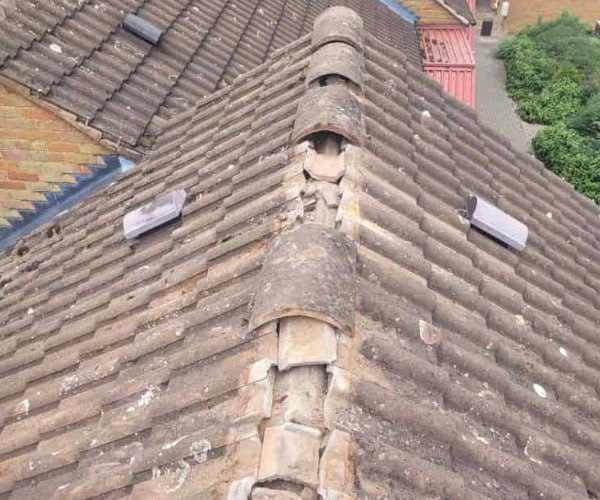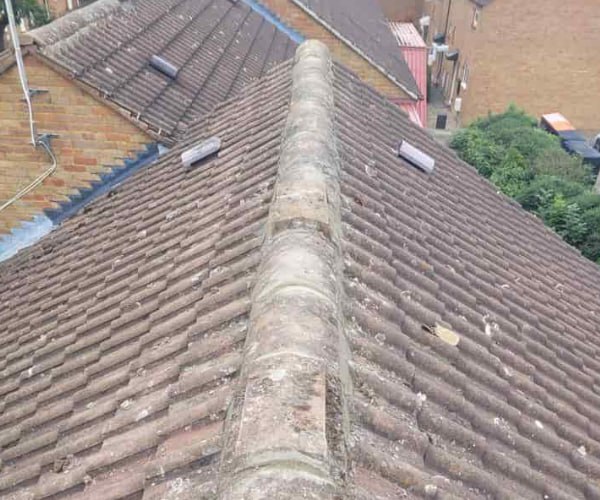 Types of roofs we work on.
Our roofing services are available to domestic and commercial customers throughout Bircotes and the surrounding areas. Here are some of the roof types that we work on:
Pitched Roofs
Gable Roofs
Hip Roofs
Flat Roofs
Slate Roofs
Tiled Roof
Mansard Roof
Dormer Roof
Mono Pitched Roofs
and more…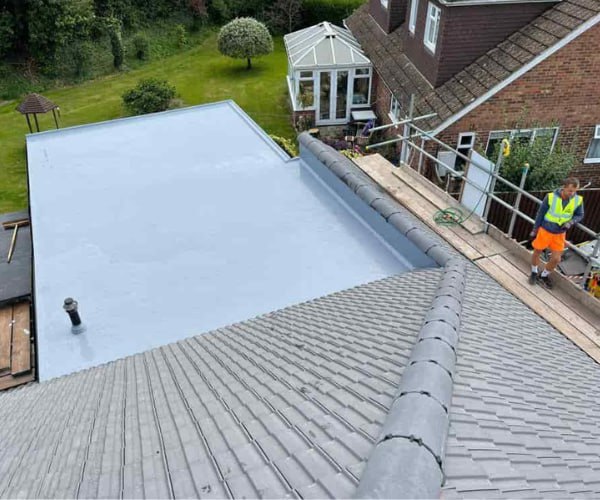 About Us
With our positive attitude and 'can-do' approach, you can be sure that we will deliver a service that will exceed your expectations. We do this by ensuring that our customer care is second to none and ensuring we only carry out roofing work of the best quality. At KAD Roofing Bircotes our operatives have decades of combined experience, ensuring they are well accustomed to carrying out all imaginable roofing repairs and installations, so you can be confident you are in safe hands with us. This is probably one of the reasons we are becoming known as one of the best roofing contractors in Bircotes, Nottinghamshire, and the surrounding areas.
If you would like to learn more about our roofing services which include roof repair, maintenance, and installations, we'd love to hear from you. Please feel free to reach out and schedule your FREE site survey.
You can also find out more about us here.
We also work with various trusted contractors, and some of our valued partners are Tree Surgery Ruddington and Roofing Sittingbourne.
Roofing Companies Near Me
Our roof repair and installation services are available in Bircotes and the surrounding areas of Nottinghamshire. Including: